Change your new tab page customize the new tab page to wallpaper tab and enjoy many Attack On Titan HD wallpapers along with the various quality of life features such as weather, welcome message, and more.
You can find the extension in Chrome Web Store.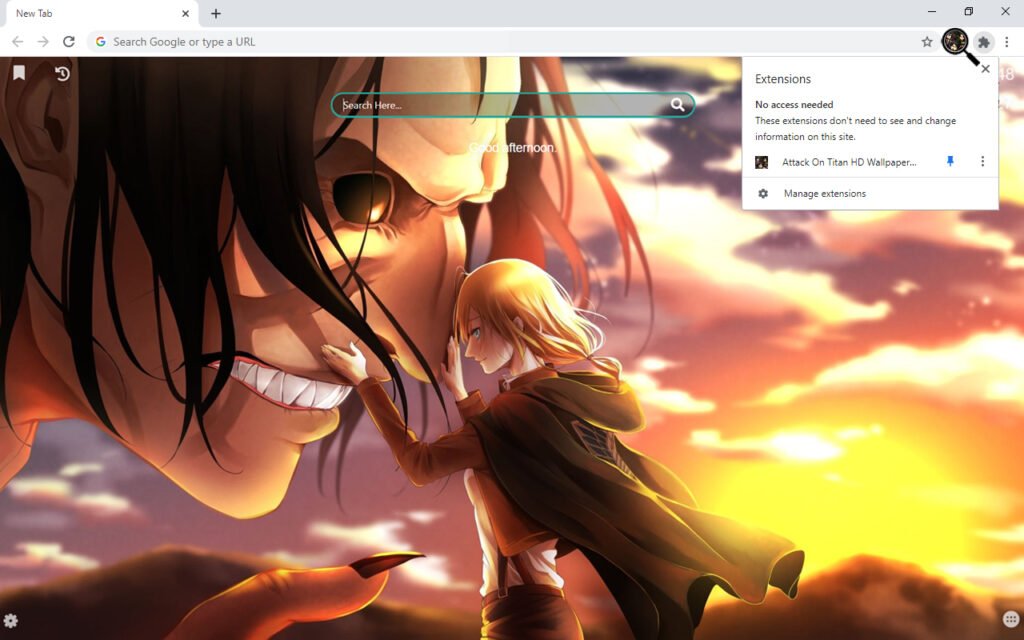 Features of Attack On Titan HD Wallpaper New Tab Extension:
* In the upper left corner, you can easily access your favorite sites and sites you have visited in the past.
* In the lower right corner, we have set the most visited sites in the world for you, by clicking on the settings in the lower-left corner, you can easily access and filter the sites you want to use.
* You can find many features like weather forecast and clock in the upper right corner of the theme.
* You can write your name to the theme, you can make it special.
* You can also use the countdown timer, you can set your jobs as the start and end time at the time you plan.
Lastly, you can enjoy these features (and your requests will be added further) for free! Attack On Titan HD Wallpaper New Tab extension does not contain any hidden ads.
About Attack On Titan:
The anime takes place in the year 845. Exactly 100 years ago, humanity was threatened with an unknown origin; they meet the giants. The giants that suddenly appeared in the world are just beginning to eat people. In the face of this disproportionate power, people are constantly being defeated and human beings feel more helpless than ever. Thus, they build a wall in which they can safely live. This wall consists of 3 parts. While more farmers and the poor live on the Maria wall, you can see more and more wealthy people inland.
Attack On Titan HD Wallpaper New Tab Features:
* Weather forecast
* Time and date
* Counter
* Greeting options
* Social media links