Change your new tab page, customize the tab page to the wallpaper tab, and enjoy many Harry Potter HD wallpapers and various quality of life features such as weather, welcome message, and more.
You can find the extension in Chrome Web Store.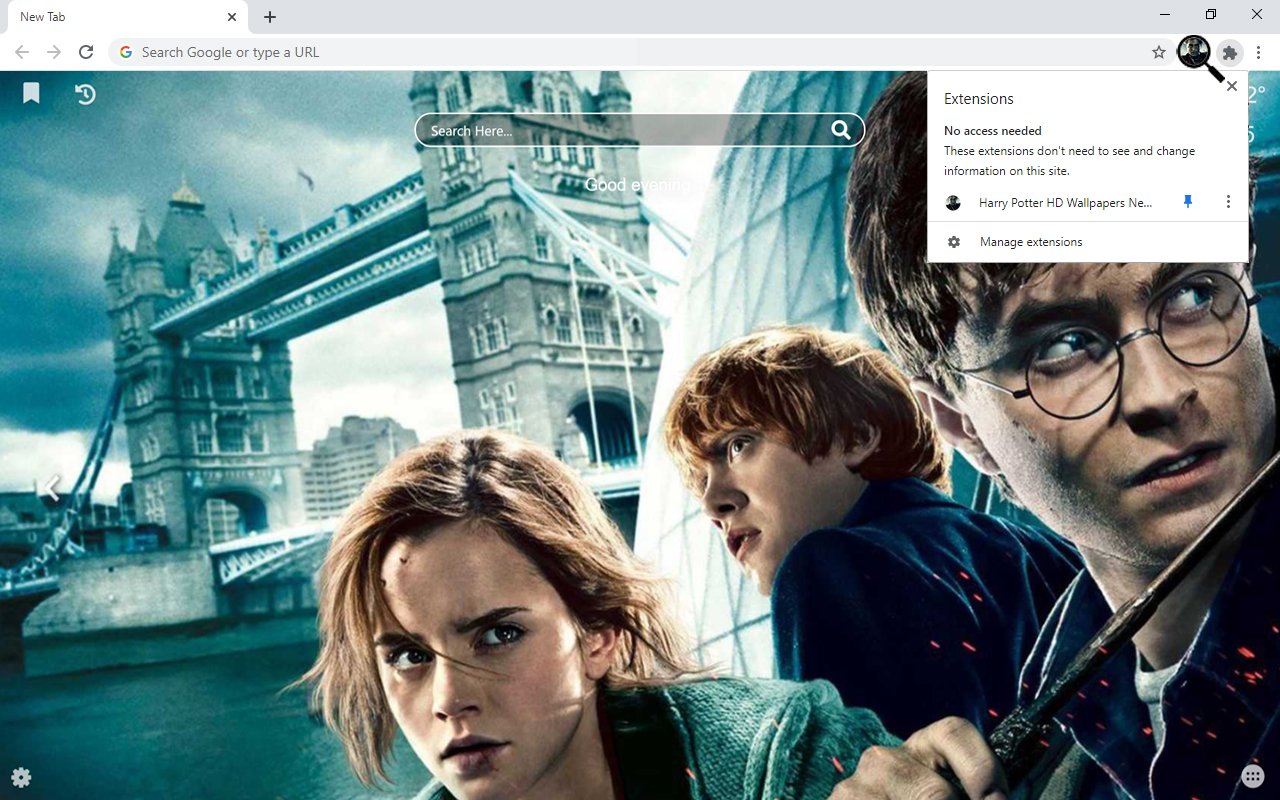 Features of Harry Potter HD Wallpapers New Tab Extension:
* In the upper left corner, you can easily access your favorite sites and sites you have visited in the past.
* In the lower right corner, we have set the most visited sites in the world for you, by clicking on the settings in the lower-left corner, you can easily access and filter the sites you want to use.
* You can find many features like weather forecast and clock in the upper right corner of the theme.
* You can write your name to the theme, you can make it special.
* You can also use the countdown timer, you can set your jobs as the start and end time at the time you plan.
Lastly, you can enjoy these features (and your requests will be added further) for free! Harry Potter HD Wallpapers New Tab extension does not contain any hidden ads.
About Harry Potter:
With the divorce and the death of her mother, Rowling fell into severe depression. She was trying to raise her daughter with 69 pounds, the unemployment pension that the state paid her. Although She often thought about suicide, she never did it for her daughter. She began to define the Harry Potter character in her mind because she did not have a pen on a train journey from Manchester to London. Moreover, the name Potter was not far from him, they were the surnames of a brother and sister who were friends she knew in his childhood. In those years, she was fascinated by these two brothers' surnames because his own surname Rowling was subjected to silly jokes because it meant rolling in English. It took her five years to complete the Harry Potter story she started on this train journey. During this time she completed this unique book series by sleeping her child in her stroller in cafes. In 1995 she finally wrote the Harry Potter and the Philosopher's Stone manuscript and began sending it to publishing houses. Feedback from publishers, which was great distress for an author, was not positive at all. As a result of rejection from exactly 12 publishing houses, Bloomsbury Publishing, a small publishing house, decided to be published after the owner's little daughter read and liked the story. While the book was being published, the publishing house wanted a female author to name a male author, so no one wanted to read it. She also created the J.K Rowling brand. J.K. Rowling thus created the Harry Potter series and opened the way for readers to Hogwarts.
Harry Potter HD Wallpapers New Tab Features:
* Weather forecast
* Time and date
* Counter
* Greeting options
* Social media links