Change your new tab page customize new tab page to wallpaper tab and enjoy many The Simpsons 4K HD wallpapers along with various quality of life features such as weather, welcome message and more.
You can find the extension in Chrome Web Store.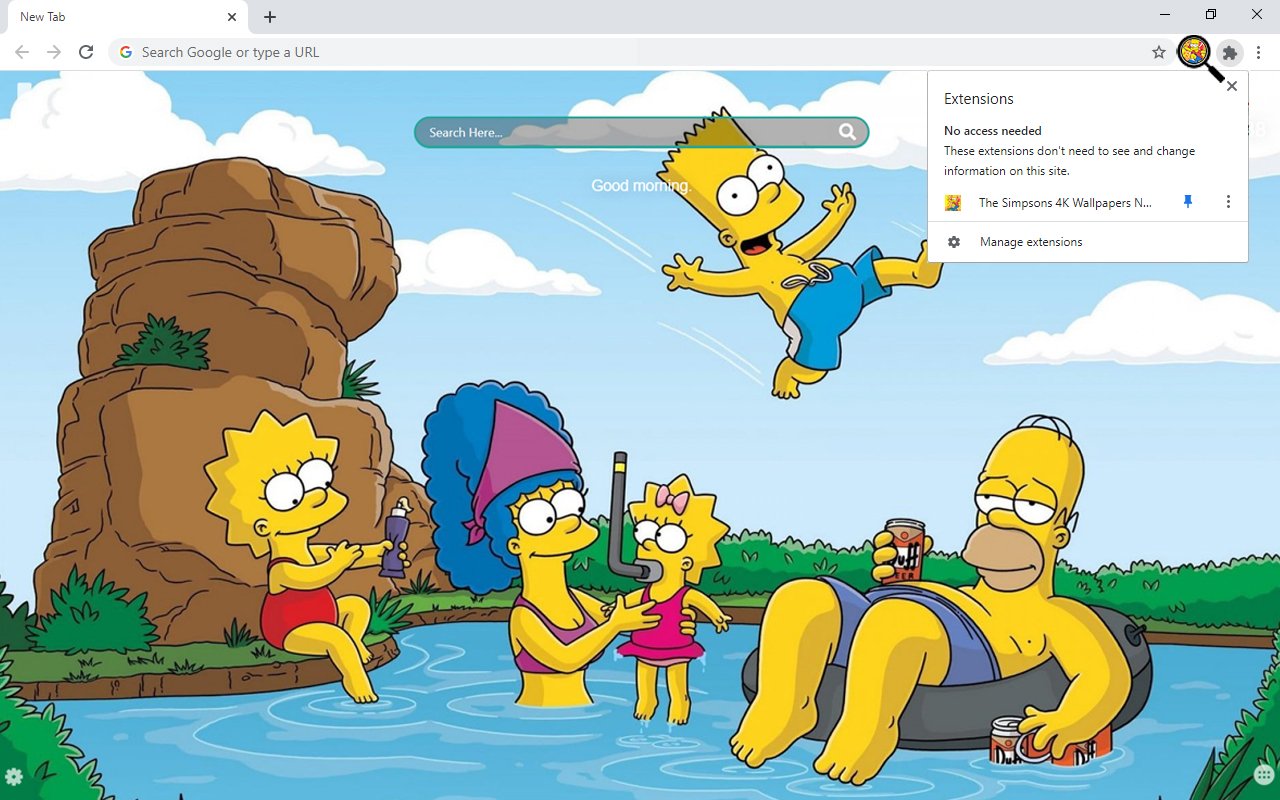 Features of The Simpsons 4K Wallpapers New Tab Extension:
* In the upper left corner, you can easily access your favorite sites and sites you have visited in the past.
* In the lower right corner, we have set the most visited sites in the world for you, by clicking on the settings in the lower left corner, you can easily access and filter the sites you want to use.
* You can find many features like weather forecast and clock in the upper right corner of the theme.
* You can write your name to the theme, you can make it special.
* You can also use the countdown timer, you can set your jobs as the start and end time at the time you plan.
Lastly, you can enjoy these features (and your requests will be added further) for free! The Simpsons 4K Wallpapers New Tab extension does not contain any hidden ads.
About The Simpsons:
The Simpsons, the animated series legend created by cartoonist Matt Groening, first aired in 1989 with a half-hour Christmas special. After this screening, the production, which took place in the prime time as a half-hour comedy series in January 1990, has not lost its throne to anyone for 20 years, even though its high-quality counterparts have been released. Described as one of the most realistic and funniest depictions of the American family on TV screens by both fans and critics in its first season, The Simpsons is the craziest family in the town of Springfield. Donuts freak Homer; Marge, who is the balance of the family with her big blue hair; sneaky and cunning Bart; Consisting of not only the family, but also the whole town, the intellectual, intelligent girl Lisa, and the only baby who can talk with the pacifier, The Simpsons is the biggest indicator that not only children but also adults can become addicted to cartoons. Dan Castellaneta, who voiced Homer, Julie Kavner, who voiced Marge, Nancy Cartwright, who gave life to Bart, and Yeardley Smith, who spoke of the pedantic Lisa, have also gained a fan base over the years.
The Simpsons 4K Wallpapers New Tab Features:
* Weather forecast
* Time and date
* Counter
* Greeting options
* Social media links