This new extension offers great images with every new tab and was made for all fans of Avengers Endgame wallpapers.
You can find the extension in Chrome Web Store.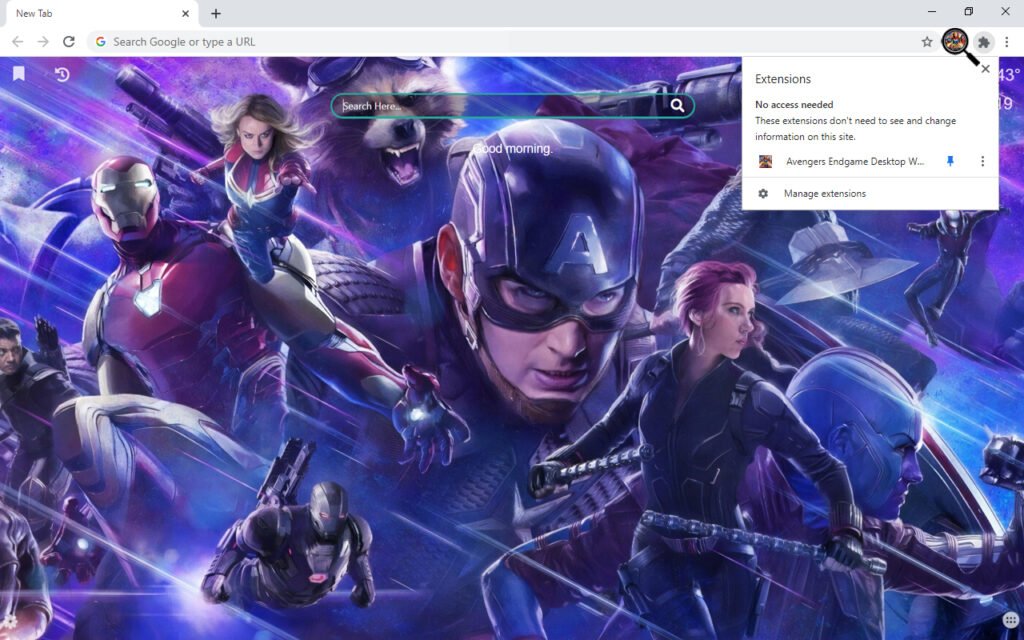 Features of Avengers Endgame HD Wallpapers New Tab Extension:
* In the upper left corner, you can easily access your favorite sites and sites you have visited in the past.
* In the lower right corner, we have set the most visited sites in the world for you, by clicking on the settings in the lower-left corner, you can easily access and filter the sites you want to use.
* You can find many features like weather forecast and clock in the upper right corner of the theme.
* You can write your name to the theme, you can make it special.
* You can also use the countdown timer, you can set your jobs as the start and end time at the time you plan.
Lastly, you can enjoy these features (and your requests will be added further) for free! Avengers Endgame HD Wallpapers New Tab extension does not contain any hidden ads.
About Avengers Endgame:
After "Avengers Infinity War", many superheroes turned into ashes. Many heroes such as Doctor Strange, Gamora, Drax, Mantis, young Spider-Man, Black Panther, Bucky Barnes, Groot, Scarlet Witch, Vision, Star Lord, Maria Hill, The Wasp, and Nick Fury has died because of Thanos. The world is in a desperate state. While Black Widow, Captain America, Thor, and Hulk are mourning their own mourning, Iron and Nebula are drifting in space, inside a spaceship they cannot control. Things don't look good for the superhero team. But Ant-Man, who finds a way out of the Quantum Realm and goes to the remaining members of the Avengers team, will be a new glimmer of hope. Learning about the existence of regions, heroes, and universes that they did not know existed before, the team will embark on the biggest struggle of their lives to change this twisted balance that Thanos has established and to bring back what was taken from them. Now it is time for revenge for our heroes, who have all lost loved ones.
Avengers Endgame HD Wallpapers New Tab Theme Features:
* Weather forecast
* Time and date
* Counter
* Greeting options
* Social media links